For a long time I have used a pair of Dali Blue Wave bi-wire cables from my power-amp to the speakers. This of course works great, even if neither my speakers or amp supports bi-wiring. But the worse part may be my razor-thin random cable extension to my sub-woofers, these are connected to High-level inputs for signal to active subs. In this use-case I don't know if that really matter much. This is some of the reason I wanted to make a pair of new custom cables for my setup, the other reason is just that I wanted to DIY it.
Plan
The plan is to make wires that terminates to the same banana-plug in the amp-side, but from there goes in separat cables to the speaker and sub. Both cables from the amp to the speakers and sub is gonna be around 2,5 meters long, that way I have some margin to move equipment around.
In my current setup the power amplifier is a Doxa 70 Signatur MK2.
The speakers are KEF Q550, and the sub-woofers are XTZ 99 W12.16.


Shopping List
As cable I will use 4,0 mm² multi-wire oxygen-free copper cables made up of 7 x 73/0,1 x 2F. OD: 5 x 10. Then I will use a braided cable stocking around them to make them look nice, and use shrink tubing to make the ends more robust and good looking.
| | | |
| --- | --- | --- |
| Product | Price in NOK | Shop |
| Fun"K"cable banana plug 4-pack (Art BP04) | 49,00,- | Fnky Audio |
| Shrink Tubing, 120-pack (Art 40909) | 129.90,- | Kjell & Co |
| Shrink Tubing, 87-pack (Art 36-1368) | 149.90,- | Clas Ohlson |
| Hot air gun, Cocraft HH 2000 (Art 40-8761) | 249.00,- | Clas Ohlson |
| Braided cable stocking 8 mm (Art 61-683) | 59,90,- | Biltema |
| Speaker Cable 4,0MM² 10,0M (Art 35-737) | 279.00,- | Biltema |
Making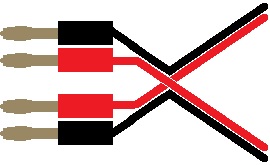 First I cut a roll of speaker cables in half, and then the half's in half so I ended up with 4×2,5M dual-wire cables. I terminated the ends in the amp-side banana-plugs like in the illustration to the left. After that I used braided cable stockin and shrink tubing.
Because of the tight 5mm diameter in the banana-plug holes I used 50% of the copper from each 4mm-wire inside the banana-plug and twisted the rest outside the plug.
After that I did the same thing for the speaker-side, this was more straight-forward.
Before doing anything on this side a made sure the wiring was correct using a multimeter.
For both sides I tighten the plugs very hard using a pliers to make sure the connection is good and solid.
The result
Afterthoughts
I am satisfied with the result, but I se a lot of potential for improvement. The worst mistake was the shrink tubing I used, It was to tight and had to little of the tubing I actually needed. This lead to a lot of compromises and less pretty finishing.
I also realize these shrink tubing kits are a rip-off, 87 or 120 pieces might sound like a lot, but in realty it's just a few longer tubes cut in bites.